Review: Bamboo Bowls, fast, healthy and so contemporaneously 2022
Bamboo Bowls is a contemporaneously 2022 restaurant that embraces all things tech
Ordering is done only through an app
The Bangkok bowl was bursting with flavours and textures, while the Saigon bowl had fresh, herbaceous overtones
The Seoul and Bombay bowls, however, could have been better executed
You know we're inching closer to the golden age of food, pre-pandemic, pre-masks, pre-lockdown, pre-fill-in-the-blank, when an entrant like Bamboo Bowls at Far East Square caters mostly to the downtown lunch-hour crowd on weekdays. 
I noodled over this with my dining companion as we reminisced about a time not too long ago, when, in a hot Covid minute, restaurants and food kiosks islandwide were forced to shut, leaving CBD-exclusive F&B joints in the dust. 
Absent a bustling office crowd, these Shenton Way-Raffles Place players turned quickly to social media to drum up much-needed publicity to ensure they won't soon be forgotten. 
Trapped in a publicity wasteland of poor brand recognition, some looked to delivery services, others offered enticing food pick-up discounts (reducing prices almost to cost), while a handful took the fastest way out and shuttered.
Before we go on, here's the backstory.
Bamboo Bowls is a contemporaneously 2022 restaurant that embraces all things tech, promises (and delivers) variety, offers plant-based options, and shows a profound understanding of customer profiles in this part of town. 
Here, ordering is done strictly through an app, which proved mighty valuable for someone like me who's always running slightly behind and for whom ordering on the go is possibly the next best thing since sliced bread. 
Punch a few buttons, make your payment, and you'll receive a notification on your phone when your order is ready for collection at one of the 14 white pods. 
Physical contact with humans? Pfft. That's so 2021.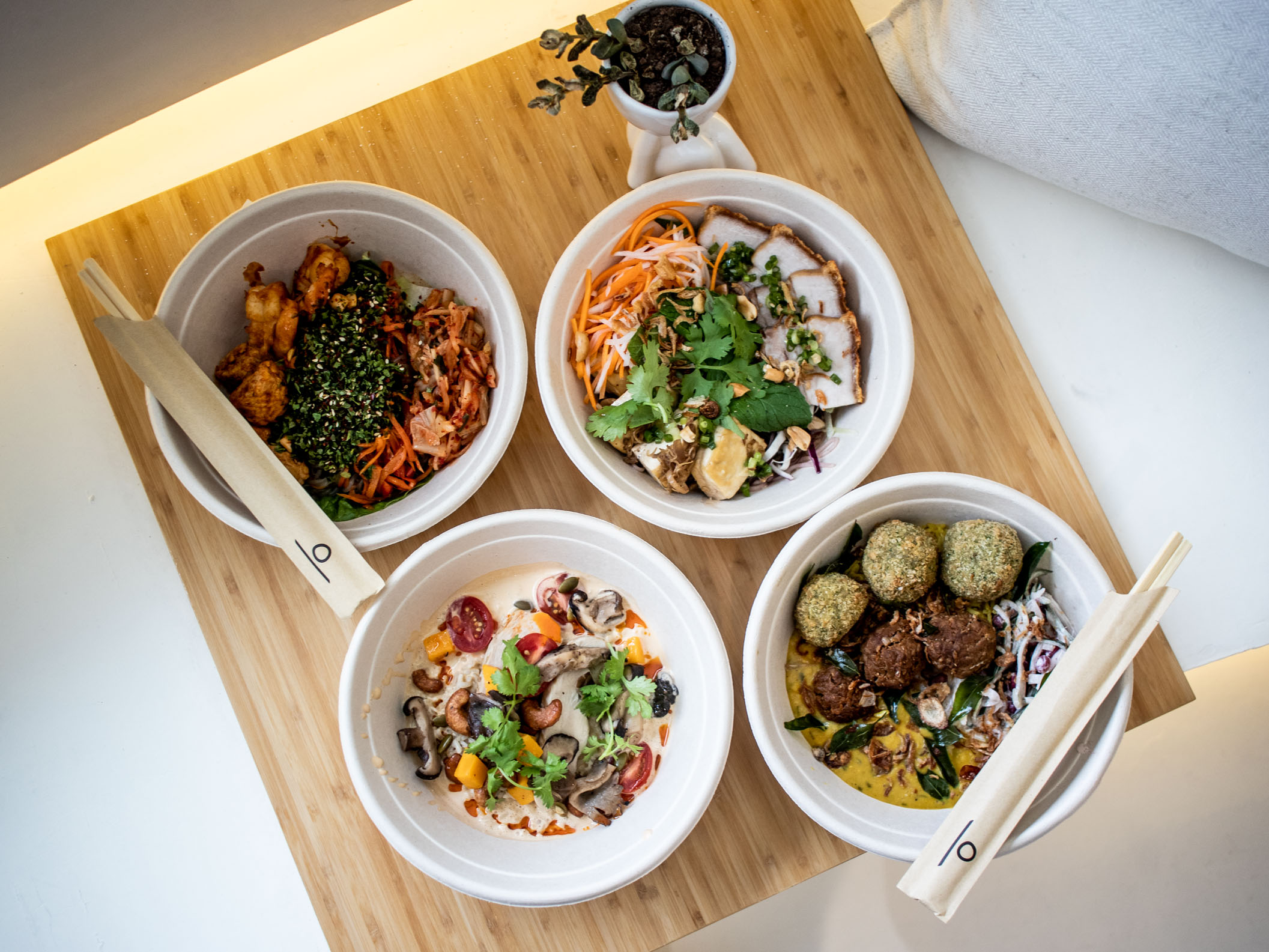 Our verdict
What it's good for
The selection at Bamboo Bowls features eight city-specific options, each curated by chefs intimately familiar with Asian flavours (though, of course, not necessarily of the region).
They pride themselves on a menu that's more than 50 per cent organic, completely sugar-free, 100 per cent unprocessed, unrefined and based on a whole-food plant-based framework.
Bamboo Bowls also serves only ethically sourced meat options and offers low-carbohydrate alternatives for each bowl.
The first bowl I tried was the Saigon (S$15 with pork, S$10 plant-based), crafted by Bjorn Shen, chef-owner of Artichoke, and fashioned after a Vietnamese bun.
There are a lot of fresh and herbaceous overtones here, helped in no small part by a garden of leafy herbs such as mint and parsley — all organic. It's served cold with lemongrass tofu, tossed in a dressing of Vietnamese fish sauce, which I thought could have been more robust in flavour. This would be good for people who are watching their weight.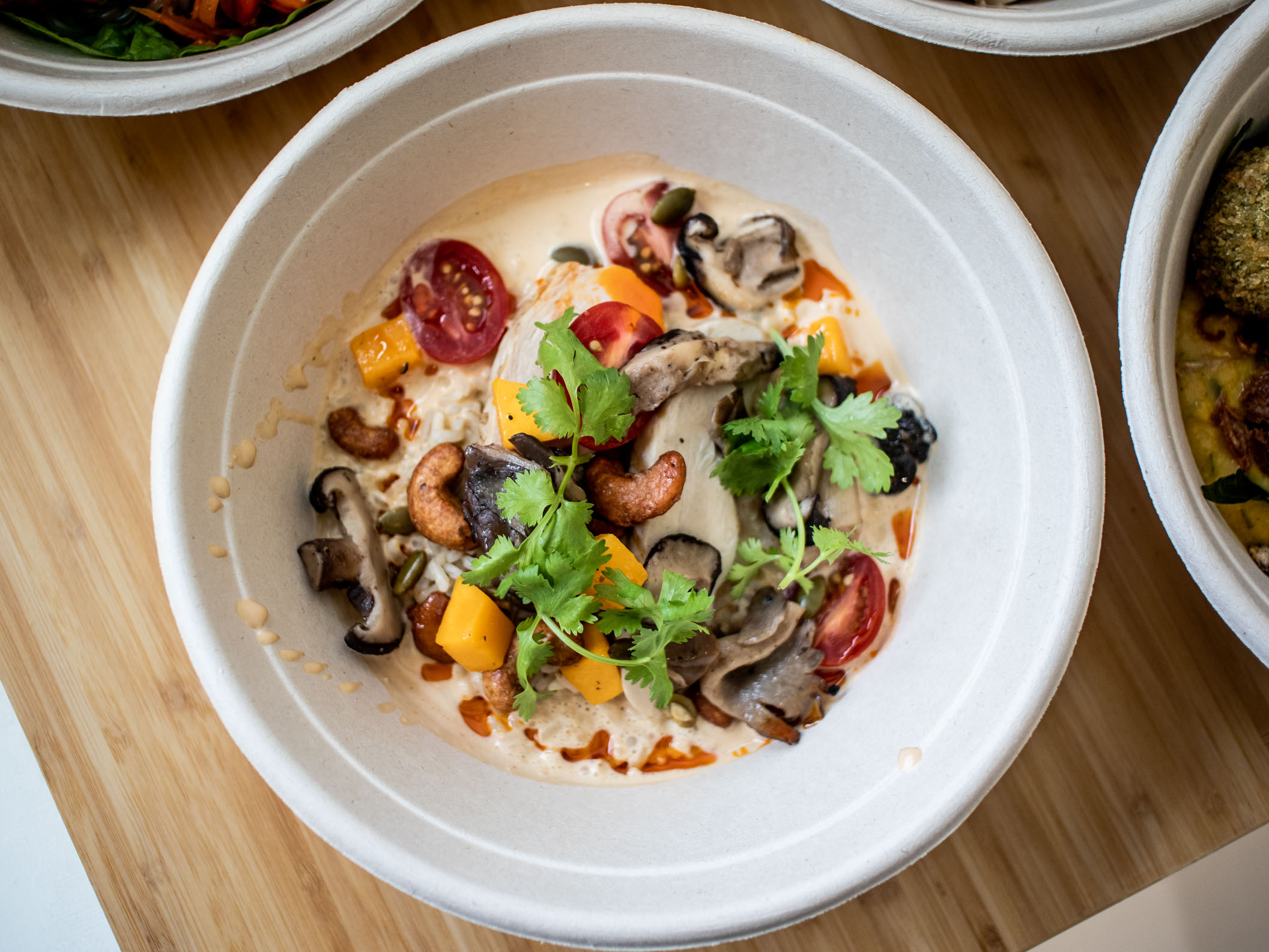 What I liked more, however, was the Bangkok (S$15 with chicken, S$10 plant-based), created by Bamboo Bowls culinary director Justin Hammond.
There's a plethora of flavours and textures here, which excites me. It all starts with a punchy red coconut curry that is creamy with just the right touch of heat, so that it's approachable.
It comes served with a honeyed butternut pumpkin, cashews, delightfully spiced mushrooms, and slices of lemongrass chicken that, though generous in cut, could have been given a bit more love with a flavourful brine.
What it could improve on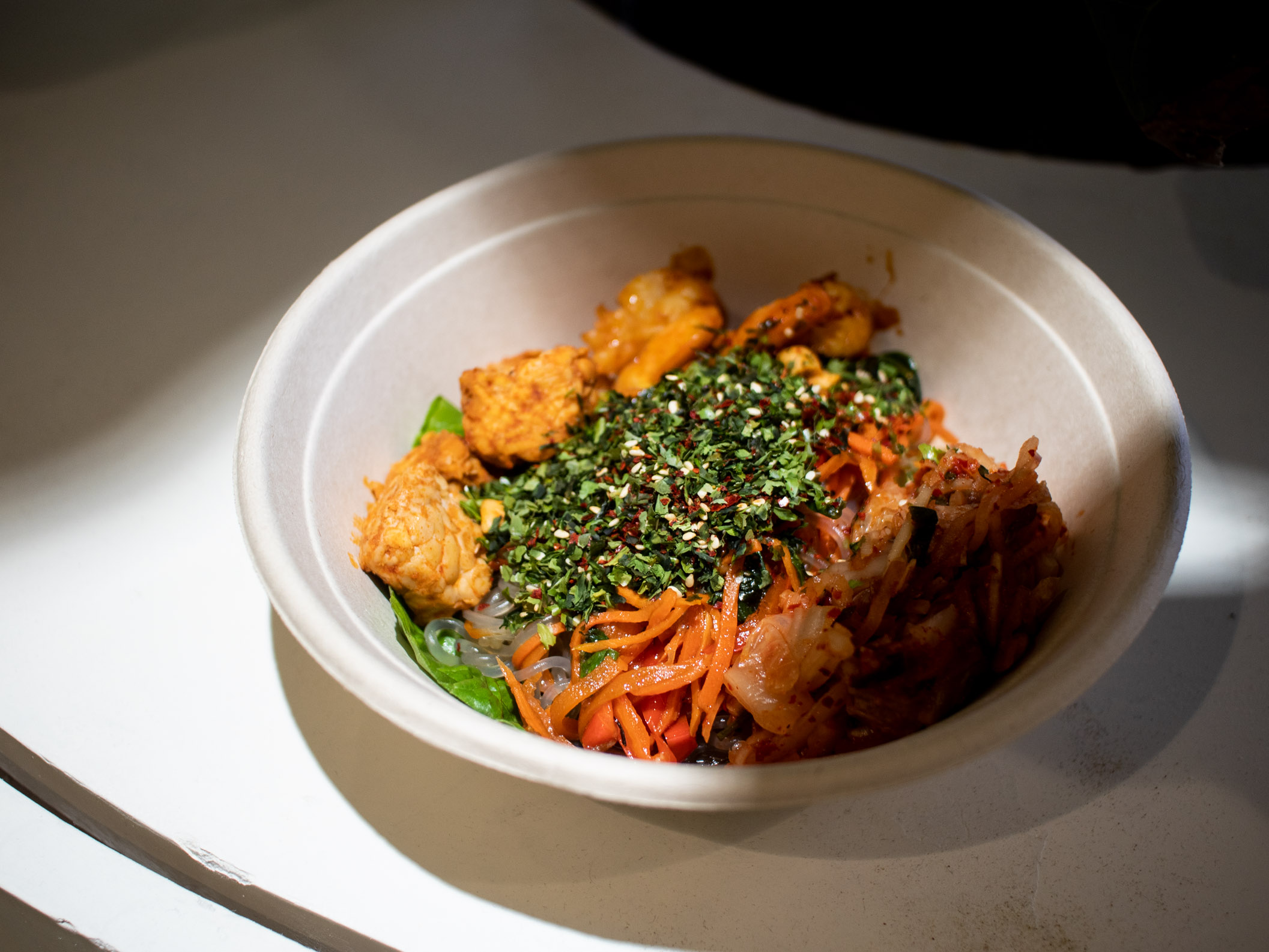 Elsewhere, the Seoul (S$15 with prawns, S$10 plant-based) by Jay Morjaria, chef-owner of Jae restaurant in London, promises exciting flavours but feels a little peculiar in execution. I chalk it up to the coconut and lime gochujang tempeh that was bursting with tropical overtones and should be fried, not braised.
On its own, tempeh has such a distinct taste that demands a more assertive flavour pairing — the gochujang simply won't do. Thankfully, the prawns were fat and cooked impeccably, although not enough to make me come back to this bowl.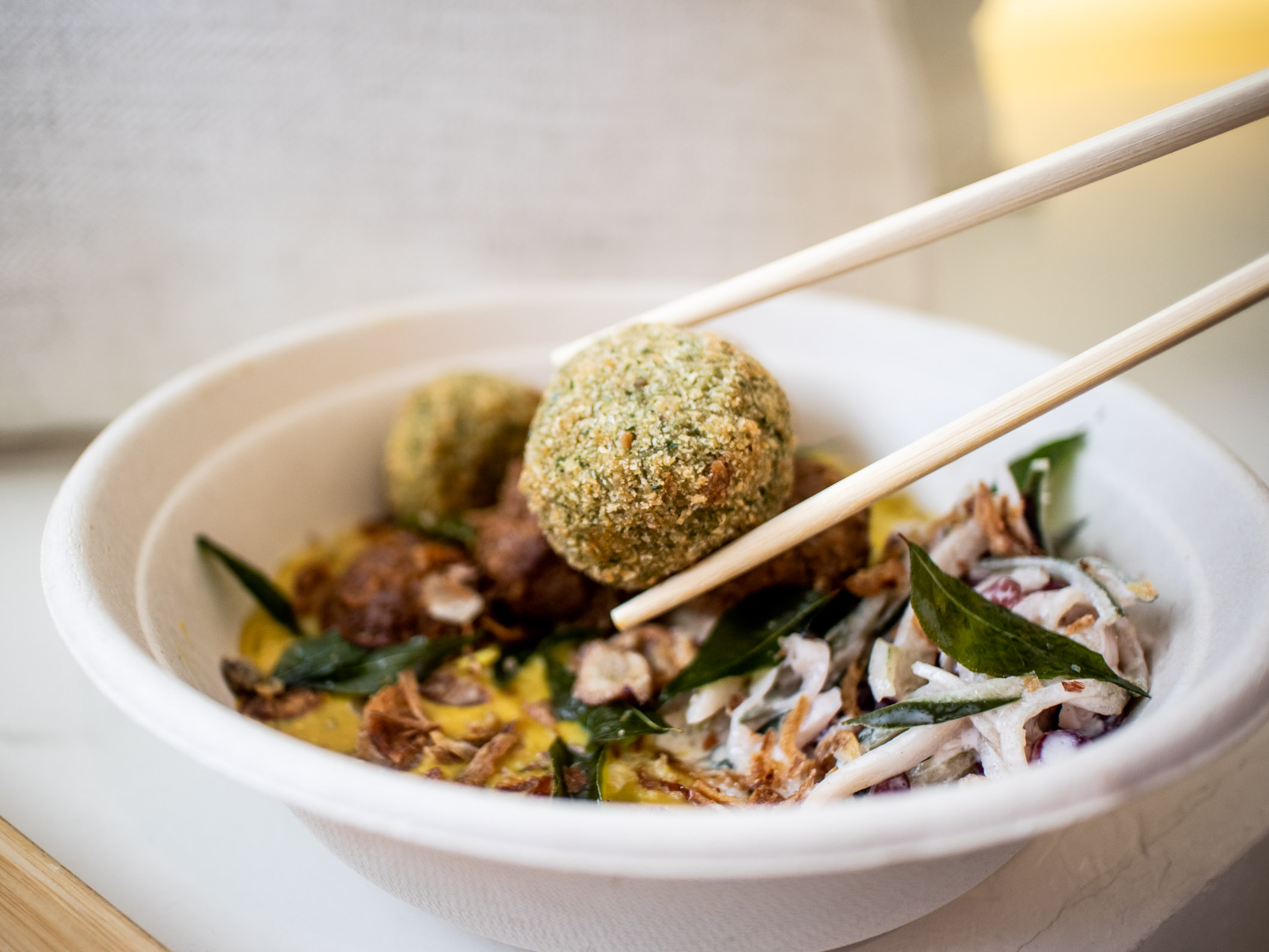 I had high expectations for the Bombay (S$15 with lamb kofta, S$10 plant-based), chiefly because Singapore's F&B darling, chef-owner Mano Thevar of contemporary Indian restaurant Thevar, created it.
I found it perplexing, though, that the basmati rice was dry, crumbly and in desperate need of more water and time in the rice cooker.
Because what good is a comforting and delightfully nutty corn and chana dal khichdi (a classic Indian rice dish), if not eaten with fluffy basmati? What for a sweet pumpkin vada (a dish served in the shape of a ball), if not paired with tender rice grains?
There's also a great balance of acidity from the kachumber raita (a condiment containing yoghurt, vegetables and spices) and a savoury gaminess from the lamb kofta. Still, pity the basmati.
Our quick takes
Is it conducive to conversation? The staff members here are of minimal help since everything is processed via the app. It's good for the self-professed introvert who uses lunch as a time to decompress. What few seats there are would set you up for a little midday tete-a-tete.
Is a reservation necessary? No. You can order your bowls in advance and come by when it's ready for collection.
How to get there? Bamboo Bowls is in Far East Square, across the road from Telok Ayer MRT station.
Things to note:
Each bowl at Bamboo Bowls comes with both a plant-based and a low-carb option.
It's chiefly a takeaway joint, so there are few seating options in the store. There are tables and chairs outside that fill up very quickly at lunchtime.
Orders are made only through the Bamboo Bowls app.
HungryGoWhere paid for its meal at this eatery for this review.
Bamboo Bowls is on the GrabFood delivery service. You can also book a ride there.
Far East Square, 01-03, 137 Amoy Street
Open: Monday and Tuesday (11am to 3pm), Wednesday to Friday (11am to 3pm, 4pm to 9pm)
Far East Square, 01-03, 137 Amoy Street
Open: Monday and Tuesday (11am to 3pm), Wednesday to Friday (11am to 3pm, 4pm to 9pm)